section-7229bcc

Kalaam Carrier solutions (KCS), is a single face for the carrier community spearheaded by Kalaam Group with a vision of Connecting MENA, Simplified.
Cumulative 30+ Years Legacy
Fueled by a Challenger Mindset & Dedicated Team
Focused on delivering Premium Customer Experience
Strong Regional Presence
KCS vision is to constantly expand the network
Trusted partner supporting the global carrier community and hyperscalers with simplified access to the MENA region.
Top 3 Data Service Providers in the MENA region awarded the "Best Middle East Wholesale Carrier" by Global Carrier Awards in 2022.
Highly Available Global Network
Largest regional carrier for PoPs & Carrier diversity
Serving carriers through neutral network and interconnection facilities, adding stimulus to the wholesale business across all continents.
Flexible, agile, fast, efficient and uninterrupted network connecting the global community.
Trusted Customer Centric Partner
Fueled by a challenger mindset & dedicated team focused on delivering premium customer experience.
Provides flexible, responsive, reliable, innovative services to empower wholesalers to easily penetrate the region with local impact.
Kalaam Carrier Solutions combining the wholesale strengths of Kalaam, Tawasul & Zajil Telecom, to winning the most coveted 'Best Middle East Wholesale Carrier' Award at Capacity Europe 2022 and acquiring the ISP license in the Kingdom of Saudi Arabia making us ready for significant expansions.
Kalaam's innovative solutions offer the benefits of availability of high-capacity connections throughout the GCC, reduced lead time for circuits, high-speed, low latency data centre interconnect, improved end-suer experience for cloud applications, support of legacy interfaces (SDN) to evolve networks, and reliable high-quality network provided by trusted partners.

Layer-1 (SDH/EoSDH)
Layer-1 SDH/EoSDH services offer a secured private network with complete transparency and control with the customer.

MPLS
MPLS is a fully managed Layer 3 Virtual Private Network ideal for customers with large networks requiring reliability, cost effectiveness and rapid scalability without large internal overheads and resources.

Ethernet
Our Ethernet connectivity solution is a fully managed Layer 2 private LAN-type network running on our global MPLS cloud. This service retains the benefits of MPLS platform, while allowing customer to retain control of their Layer 3 architecture.

Dedicate Internet Access
Dedicated Internet offers businesses high-speed, high-capacity Internet connectivity which is ideal for large companies that require access to www.

IP Transit
Our IP TRANSIT gives access to most diverse, multi-carrier, multi-country regional eyeballs with a dense regional IP Gravity.

SDWAN
The Next disruptive Branch Connectivity solution that transforms how large enterprises can build, deploy & operate next-generation business networks.

Cloud Connect (AWS, Microsoft Azure)
Securely establish a private dedicated network connection from your premise to Public Cloud to access your work loads.
• AWS Direct Connect
• Azure Express Route

Spectrum Services
SPECTRUM is an owned frequency on a cable system, which a customer owns and manages end to end. With option of having Managed Spectrum, it gives rights, as good as owning that cable system, for that capacity.

Unified Communication UCaaS
Kalaam's Unified Communication offers secure, end-to-end business voice and unified solutions, delivering tangible benefits irrespective of the industry, size or geographical location.
Wholesale telecoms need redundant, secure and fast access to their applications, data, workloads and other services on the Cloud, as well as to connect their regional and international branches, which Kalaam enables though its fully owned 1,400km terrestrial cable system, KNOT (Kalaam Network Optical Transit), spanning Kuwait, Bahrain, KSA, UAE and Qatar, coupled with consortium ownership in undersea cable Europe-India Gateway (EIG); a 15,000km international fiber-optic submarine cable system that covers areas from India across the Middle East and Europe.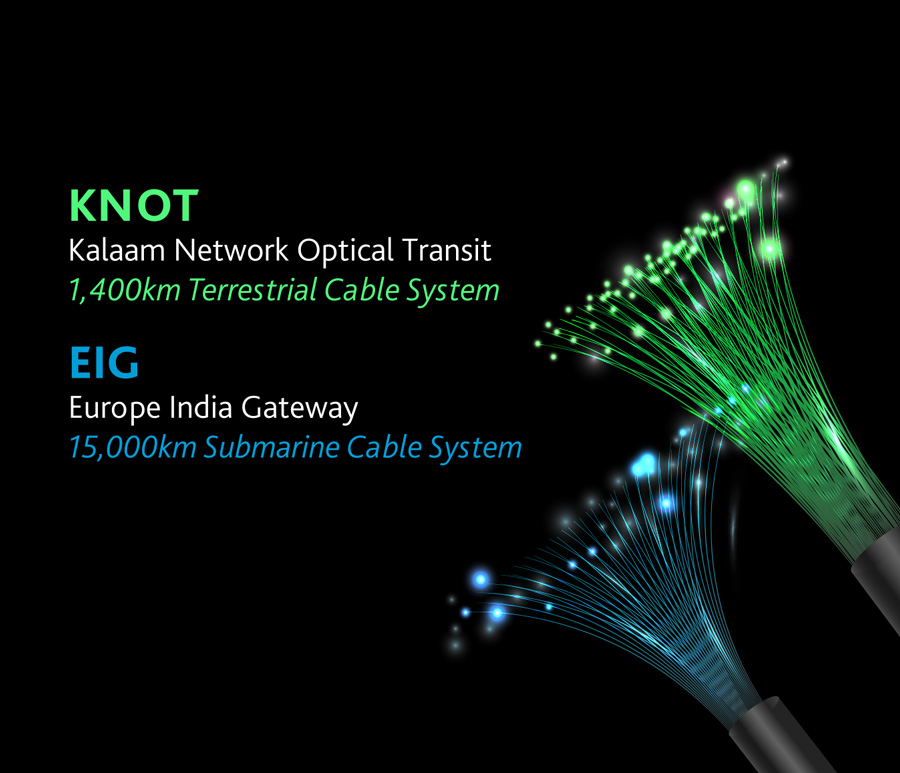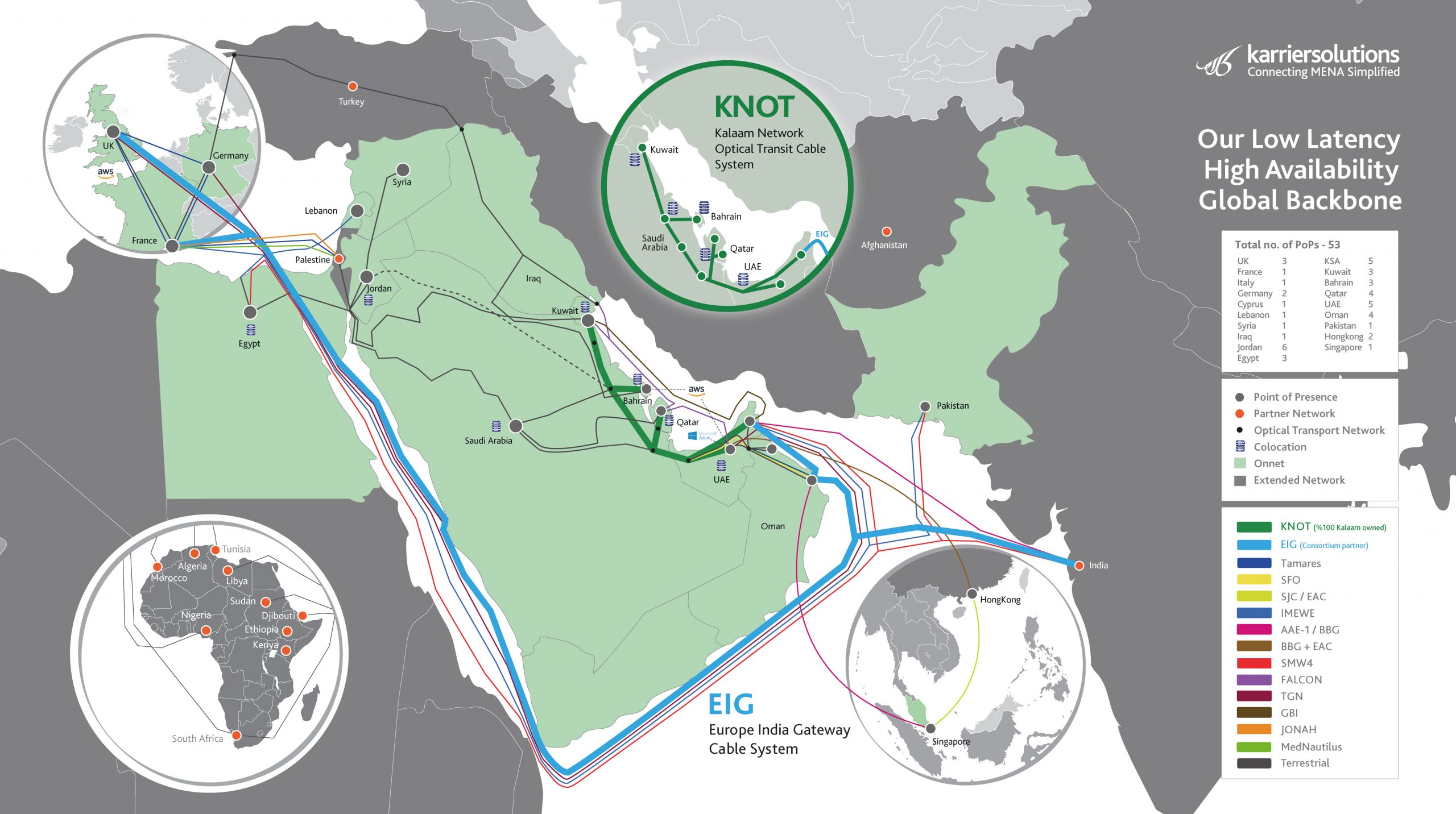 Why Kalaam

Carrier Solutions?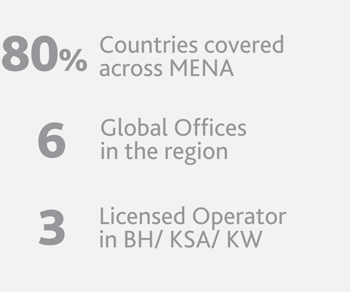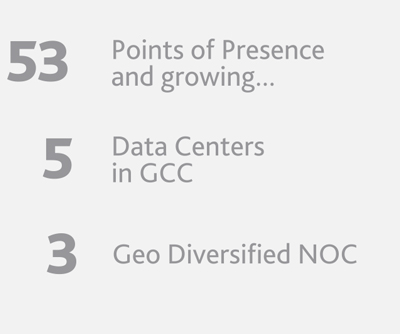 Lets Connect

Lets Connect

Submit your details and we will contact you immediately